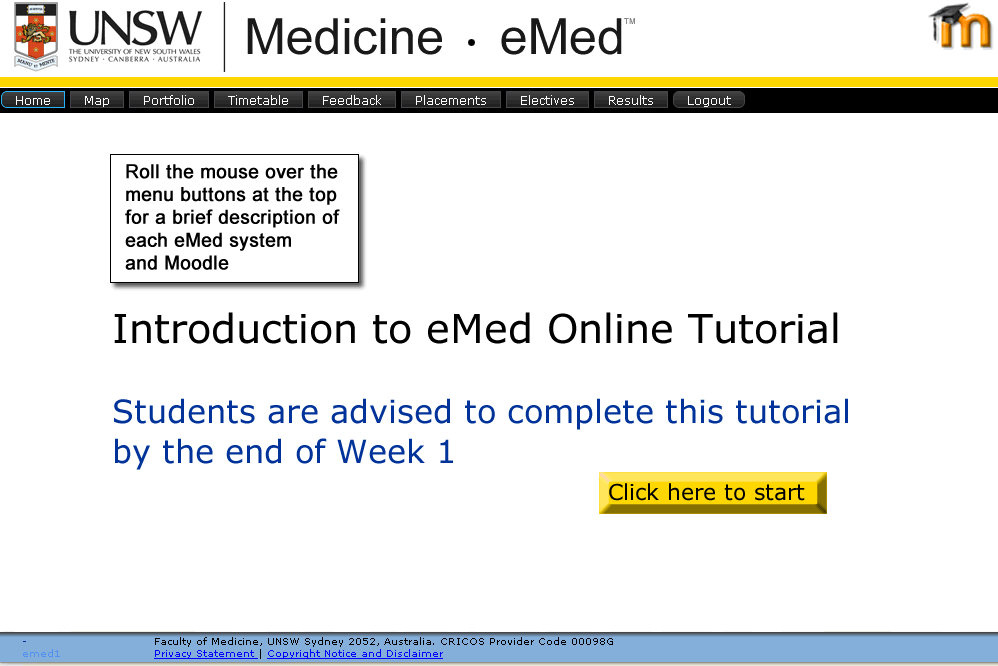 Moodle is a Learning Management System used at UNSW to provide students with electronic access to materials they need to support their coursework.
Each course in the undergraduate Medicine program has a course module available via Moodle.
Always REMEMBER TO LOGOUT. Leaving eMed logged in, gives others access to your personal information, Portfolio and Results.
Help is available to students, for all eMed systems, from the eMed tab on the undergraduate Medicine program website. [login required]
Students use the Results tool to view their submission results and exam results. It is in Results that students can track their progress throughout the program. They can use Results to track how they have performed with regard to the graduate capabilities. Exam results in this system are provisional only.
myUNSW is used for official course results.
Students use Feedback to provide self and peer feedback in relation to project group work. The tool can also hold feedback from teachers on student's contributions to other activities. All comments contributed to the system, by and about a student, are available to the Portfolio assessors as evidence towards the student's achievement of the Teamwork capability.
Students use Portfolio to submit assessments such as individual assignments, group projects, evidence of achievement notes and reflective essays for portfolio examinations. Each submission to Portfolio is stored and accessible to students while they are enrolled in the program.
The Map provides an overview of courses and activities in the program, and captures the graduate capabilities, structure and vocabulary of the Medicine Program. It also includes content files relevant for individual learning activites.
The eMed Homepage allows access to the following features:
• eMedLinks and buttons (to Map, Timetable, Portfolio, Results and Feedback)
• My Preferences (ILP, Registrations, Electives)
• Quick Links to other systems such as Blackboard
• Customise / Update Panels (where you can customise "Today's activities" and "My Groups")
• News
• My Groups (shows your Clinical group, Collegium group and Scenario group)